Again, THANK YOU very much for making our evening so very special! People keep talking about the evening today! Our client was also very happy.
I wanted to take a moment to send you a quick note to say a huge "Thank You!" to you and your colleague for a memorable evening at La Cucina del Sole. You went above and beyond to take into account various food intolerances while still helping us to prepare meals that were delicious and we greatly appreciated you doing so.
I know I speak for the entire organization when I say how much we truly enjoyed the evening. Many members of our organization came up to me during the evening and after to say how much fun they had, how wonderful the venue was, and of course, how delicious the food was!
The bar has been set very high for future team-building activities and I have no doubt this will go down as one of the most memorable ones we will have.
Thanks again Nicoletta for working with me to organize the event, and for ensuring it exceeded our expectations!
"Thank you for Friday evening we had really an amazing time! We had so much fun and we loved the food you let us prepare!
Please KEEP UP great work! You are a fantastic person with an amazing personality and talent!"
"Thanks so much from all of us for a fantastic day, everyone had a great time and the food was delicious!You are great at what you do!!!"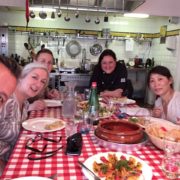 Thanks to you for showing us such a wonderful afternoon, we all had a really fabulous time! The food was delicious, but I suspect that was more to do with your guidance than our cooking skills!!!
Thanks again for a really nice event for the team.  The relaxed environment was exactly what we needed, plus the pasta was really good!  I'll be happy to recommend the classes to colleagues.
"Net terug van een topavond. Heerlijk eten. Het was perfect georganiseerd en er waren gezellige gasten. Ik heb vaker kookworkshops gevolgd, deze steekt er echt boven uit. Ik kom zeker weten nog terug."
"Ik wil ik je bedanken voor de geweldig leuke en goed verzorgde workshop over het maken van verse pasta. De workshop vond ik enorm inspirerend en ik had meteen zin om thuis alles in praktijk te brengen."
"We hebben een super leuke avond gehad gister!! Erg leuk om alles zelf te maken met al die heerlijke verse ingrediënten, verrukkelijk!! Een avond waar we met veel plezier aan terug zullen denken. De kookstudio ziet er fleurig en leuk uit met genoeg ruimte voor een ieder. Helemaal top dus!"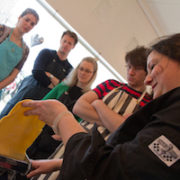 "Ik ben nu een week terug van vakantie in Italië en ik heb daar nog geen pizza of risotto gegeten, die de jouwe uit de workshops overtroffen."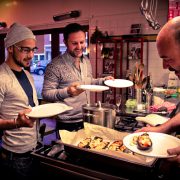 Wat een super leuke avond. Fijne mensen, mooie gerechten en jouw professionele aanpak vol passie werkt aanstekelijk. Ik vind je kookboek prachtig en ga er zeker veel uit koken. Ook kom ik gauw weer eens bij je terug.
Graag wil ik je nogmaals hartelijk bedanken voor de gezellige en nuttige avond die ik met de sprekers van mijn volgende congres bij je heb mogen doorbrengen. Het eten van onze private dining was heerlijk en de ambiance was precies wat ik wilde voor deze vergadering. Je was de perfecte gastvrouw.